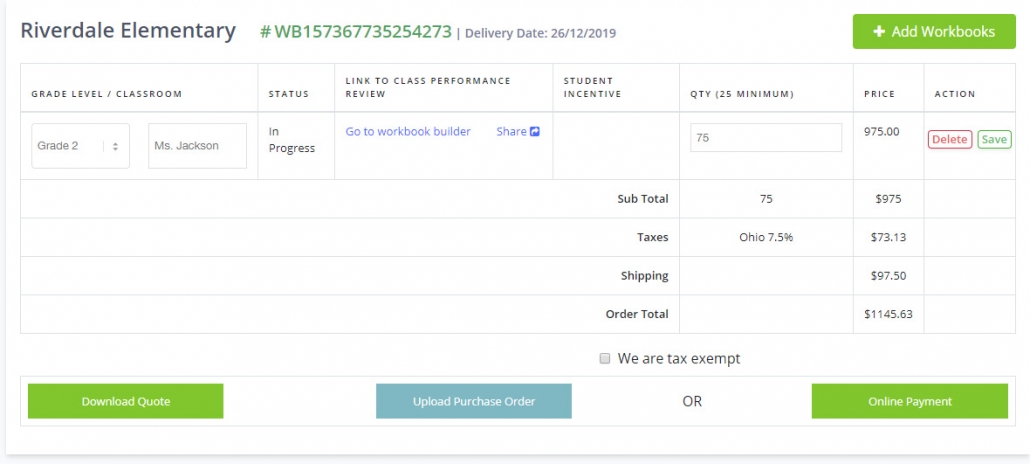 1
STEP ONE. Select GRADE LEVEL and then add a teacher/class name. The name of your school, grade level and the teacher/class name you choose will appear printed on the cover of the workbook.  NEXT HIT SAVE.
2
Press SAVE after you select the grade level and class name to access the workbook builder.
3
AFTER YOU HIT SAVE, two options will appear.   GO TO WORKBOOK BUILDER will allow you to preview our workbook builder and, if you choose, build each book yourself. Alternately, if you'd like someone else on your team to create the book (e.g., the classroom teacher), select SHARE to send that person a link.
4
Add workbooks to create additional books for more grades and/or classes you need.
5
School name, order number and requested delivery date.  Check that the delivery date is before the students leave for summer break.  You can change the delivery date before you finalize the order by pressing the Back to Previous Step button.
6
Workbooks are custom printed, so be sure to double check your quantity.  If you need additional books after your order is placed, substitute books can be purchased that are grade equivalent, but will not match the exact custom requirements of the ones ordered.
7
Select and enter tax exempt ID# to remove the sales tax
8
Download a PDF quote for your order.