At Summer Pops, we have two goals: We want to help schools improve their math scores, and we want more 8th graders entering high school prepared for higher level math courses. 
The team at Summer Pops is composed of self-described education nerds. This page is for our fellow educators: Teachers and principals who love pedagogy, who dive deep for the nitty gritty details behind finely crafted lessons and educational programs. 
We love working with school professionals who agree that teaching is an "art" based on science. 
Summer Pops is an easy and effective way for schools to build their best summer math program.
Check out our FAQ below to review the up-to-date research behind Summer Pops.
Thanks, and have a great school year!
What do you mean when you say Summer Pops is specifically designed for summer use?
We understand your students will be working on these books during the summertime and will be unable to ask a teacher for help.
Our books are designed to be self-guiding, so students do not become frustrated and give up. Here are some of the design features:
HELP TIP NUMBERS AND HELP SECTION
Every question has a help tip number after it. This help tip number shows the student exactly where to find the information they need to solve the question.  This minimizes the time between "How do I do this?" and "OK, that's how I do this!"  This feature is designed to reduce frustration, help the student understand the concept, get the answer right, and move on to the next question.
SPACE TO WORK
The physical design of each lesson is 12 questions spaced over two pages with plenty of blank work space for students to solve the problems. This allows students to show their work and avoid the need for scrap paper.
ALL THEY NEED IS OUR WORKBOOK AND A PENCIL
Yes, it is an actual paper workbook. No internet (no distractions) needed.  Reduce screen time for our kids.  Travels anywhere.
How exactly are the questions divided into difficulty levels?
Each workbook contains 336 questions. There will be approximately 67 questions for each domain (84 questions per domain for a grade 2 book).
SUMMER POPS ARE AVAILABLE IN THREE DIFFERENT LEVELS.
Base Edition –  50% easy level questions. 50% avg. level questions.

 Easy-level questions are written so a student who struggled can still complete them on their own or with help from the help section. These questions are designed to allow students to apply and retain the concepts of the standard without frustrating them to the point that they cannot complete the question.

Classic Edition – 100% avg. level questions.

Average-level questions are written so the average student who successfully completed the grade would be able to answer them on their own or with a reminder using the help section.

Challenge Edition – 33% challenge level question. 67% avg. level questions.

Challenge-level questions are written to require higher-level thinking,  multi-step completion, and mastery of the concept. 
CUSTOM WORKBOOKS ALLOW TEACHERS TO SELECT THE DIFFICULTY LEVEL FOR EACH COMMON CORE DOMAIN.
When a teacher selects

"CHALLENGING"

for a domain,

two-thirds of the questions will be of average level and one-third of the questions will be a challenging level.

 

Domains that are selected as

"AVERAGE"

will have

all average-level questions in the workbook.

 

Domains that are selected as

"EASY"

will have

half of the questions at an average level and half of the questions at the easy level

. 
Can I see an example of how questions within the same standard are written based on difficulty?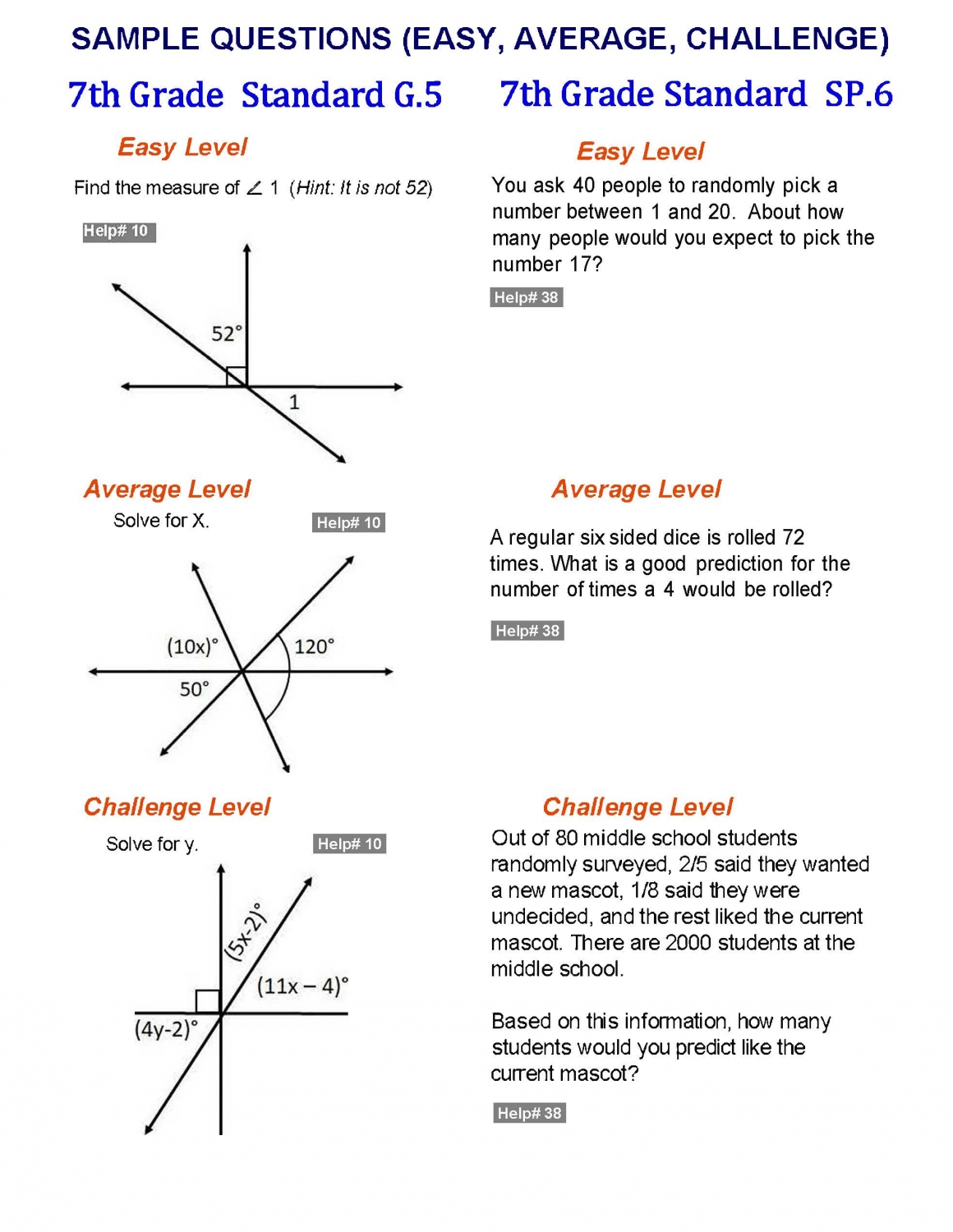 .
Why a pencil-and-paper workbook? Why not an on-line program?
All they need is a Summer Pops Workbook and a pencil!
Goes anywhere.
Does not require electricity or a wi-fi connection.
Reduces "screen-time fatigue".
Are cheaper than laptops and tablets.
No distractions.
Here is some research behind our choice to use a paper-and-pencil workbook instead of an online program.
ONLINE HOMEWORK VERSUS PEN AND PENCIL HOMEWORK: DO THE BENEFITS OUTWEIGH THE COSTS?
James Penner, PhD, CPA, Western Michigan University
Elizabeth Kreuze, RN, PhD Candidate, Medical University of South Carolina
Sheldon Langsam, PhD, CPA, Western Michigan University (January 2015)
IS THE PEN MIGHTIER THAN THE KEYBOARD? THE EFFECT OF ONLINE TESTING ON MEASURED STUDENT ACHIEVEMENT
Ben Backes and James Cowan (April 2018)
THE PEN IS MIGHTIER THAN THE KEYBOARD: ADVANTAGES OF LONGHAND OVER LAPTOP NOTE TAKING
Pam A. Mueller and Daniel M. Oppenheimer (April 23, 2014)
Can our school use CARES Act/ESSER Funding to purchase Summer Pops?
Yes.  Summer Pops have been approved for CARES Act/ESSER Funding to address learning loss.
What does the research say about the recent Covid-Slide on students?
What does the most recent research say regarding summer learning loss?
SUMMER MATH LOSS: WHY KIDS LOSE MATH KNOWLEDGE, AND HOW FAMILIES CAN WORK TO COUNTERACT IT
Leah Shafer (June 24, 2016)
"Across the socioeconomic spectrum, kids arrive back at school every fall much worse off in mathematics than they finished in the spring. On average, students lose approximately 2.6 months of learning in math over the summer — and teachers have to give up weeks of class time, or more, to make up for that loss."
https://www.gse.harvard.edu/news/uk/16/06/summer-math-loss
SUMMER LEARNING LOSS: WHAT IS IT, AND WHAT CAN BE DONE ABOUT IT?
David M. Quinn and Morgan Polikoff (September 14, 2017)
"Schools and districts should want to address the issue of summer learning loss not only because it may exacerbate achievement gaps, but also because it 'wastes' so much of the knowledge students have gained during the school year. Summer loss also undoubtedly increases the amount of time teachers have to spend 're-teaching' last year's content, likely contributing to the repetitiveness of the typical U.S. curriculum."
RETHINKING SUMMER SLIDE: THE MORE YOU GAIN, THE MORE YOU LOSE
Megan Kuhfeld (June 6, 2019)
First, researchers revisit the famous 1996 study on the topic. Unsatisfied with the research practiced, they conduct a new study to provide fresh data on the subject.  What is found is not surprising.
"Seventy percent to 78% of students lost ground in math during the summer within the elementary school grades. The summer between 5th and 6th grade, which corresponds to the transition between elementary and middle school for many students, represented the largest summer drop in math, with 84% of students demonstrating summer slide. It is important to remember, however, that these findings indicate that 22% to 38% of students show gains during the summer, implying that summer learning loss is not inevitable."
SUMMER LEARNING LOSS: WHAT WE KNOW AND WHAT WE'RE LEARNING
Megan Kuhfeld (July 16, 2018)